closed:



opened: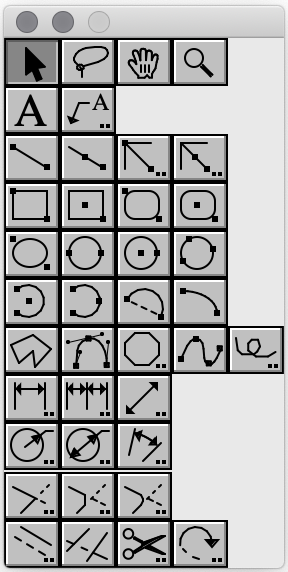 This pallet allows you a great choice of drawing tools: text, text with line, line, constrained line, rectangle, rectangle rounded, ellipse, arc, polygon, Bézier curve, regular polygon, spline, free line, line of quotations simple or multiple, quotation of angles, radius and diameter.

All the tools are used in an intuitive way, and you can choose between two drawing mode : click and drag or click and click (choose in the preferences).
The drawing of objects can be constrained while pressing on the Shift key thus an oval will be perfectly round and a rectangle will be square.
You can also use the parameter setting of the Parallel tool to trace parallel objects directly, for that it is enough to begin the drawing of the object while pressing on the Alt key (Ctrl + Alt on Linux) and, while finishing with the Ctrl key, you erase the object guides.

In addition to the drawing tools, you have tools of construction: Extend & Cut, Chamfer, Fillet, Parallels, Cutting tool, Rotation tool.
And also a zoom, a lasso for selection and a hand to move the drawing or the page of printing.

For all tools with parameters (tools with 2 points in bottom on the right of their icon), one click on the tool with the key Option or Alt down or a double click, will display the parameter's dialog for the tool.