(
en français
)
e.Tampon: Digital stamp for pdf files
----------------------------------------------------------------------------------------------
-- NEW VERSION : 2.60 --
- Possibility to save several data from different stamps,
- Possibility to stamp at the bottom of the pages,
- Possibility to define an increment for the pages to be stamped.
----------------------------------------------------------------------------------------------
Previous Release Notes
----------------------------------------------------------------------------------------------
Help for e.Tampon
When dematerializing the expertise and more generally, with the connected world
why to continue printing your documents to stamp and enumerate them manually…
and then, the obligation to scan each page!
What a waste of time and quality!
e.Tampon allows you to enumerate easily your pdf files
directly
without printing them
without a quality loss.
Two configurable types of stamp are available.
Please find below the original version of a document on the top and
the examples showing the two different versions of stamp under the original one:



The same piece is appended by an expert and numbered again by e.Tampon :

e.Tampon 2.60 is available for Windows and Macintosh.
Download e.Tampon 2.60 for Windows 7 to 10
(Installer)
Download e.Tampon 2.60 for macOS
For older OS, e.Tampon 2.50 (see differences in release notes) :
Download e.Tampon 2.50 for Windows XP
(Zip file)
Download e.Tampon 2.50 for macOS (10.6)
*********************
As the downloaded file is a compressed archive, you must decompress it (right click and "Extract all ..." on Windows) before using e.Tampon.
If you encounter the error "Failed to locate Framework DLL", it means that you tried to run e.Tampon from the compressed archive.
Please note for macOS with Safari, the decompression is done automatically. If it is not the case, you can double click to do it.
*********************
Please try e-Tampon to verify if it meets all your needs.
During the trial version, e-Tampon adds a watermark.
We are offering you e.Tampon as the same price of a couple of ink refill and a physical stamp. ,
Which means for only $62.
The purchase can be made only via Paypal :
After receiving your payment, we will send you the code to unlock your e.Tampon.
Please note it can take 12 to 24 hours to send the code.
This code is to be entered to the case shown as below obtained with the "About ..." menu and next the "Unlock" button.: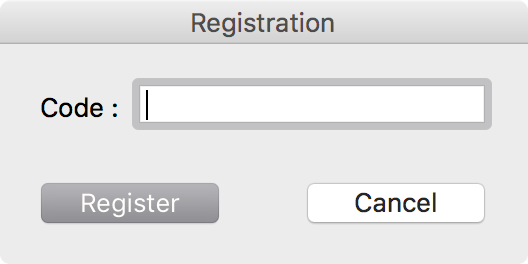 Once the code is entered and validated, your enumerated pdf documents will no longer contain watermark..
Users of a Macintosh also have the option to purchase e.Tampon on the
Mac Apple Store
.
Help for e.Tampon